Learn how controlling your concrete provides a better project and a better budget for you!
Perfect Mix, Every time
The dual auger cement metering means consistent mix designs within +/-1 percent on every pour.
Always Accurate
Electronic mix designs provide exact mixtures, everytime.
Each concrete ingredient is contained in a separate compartment. Once the operation has started, the sand and stone exit their respective bins, then pass under the cement bin and falls into the mixing auger. The cement bin precisely meters the correct amount of cement onto the mix. All materials simultaneously enter the continuous mixer where they are thoroughly mixed by Cemen Tech's unique mix auger. The concrete mixture is then carried to the discharge chute, with perfect concrete is produced for each and every pour!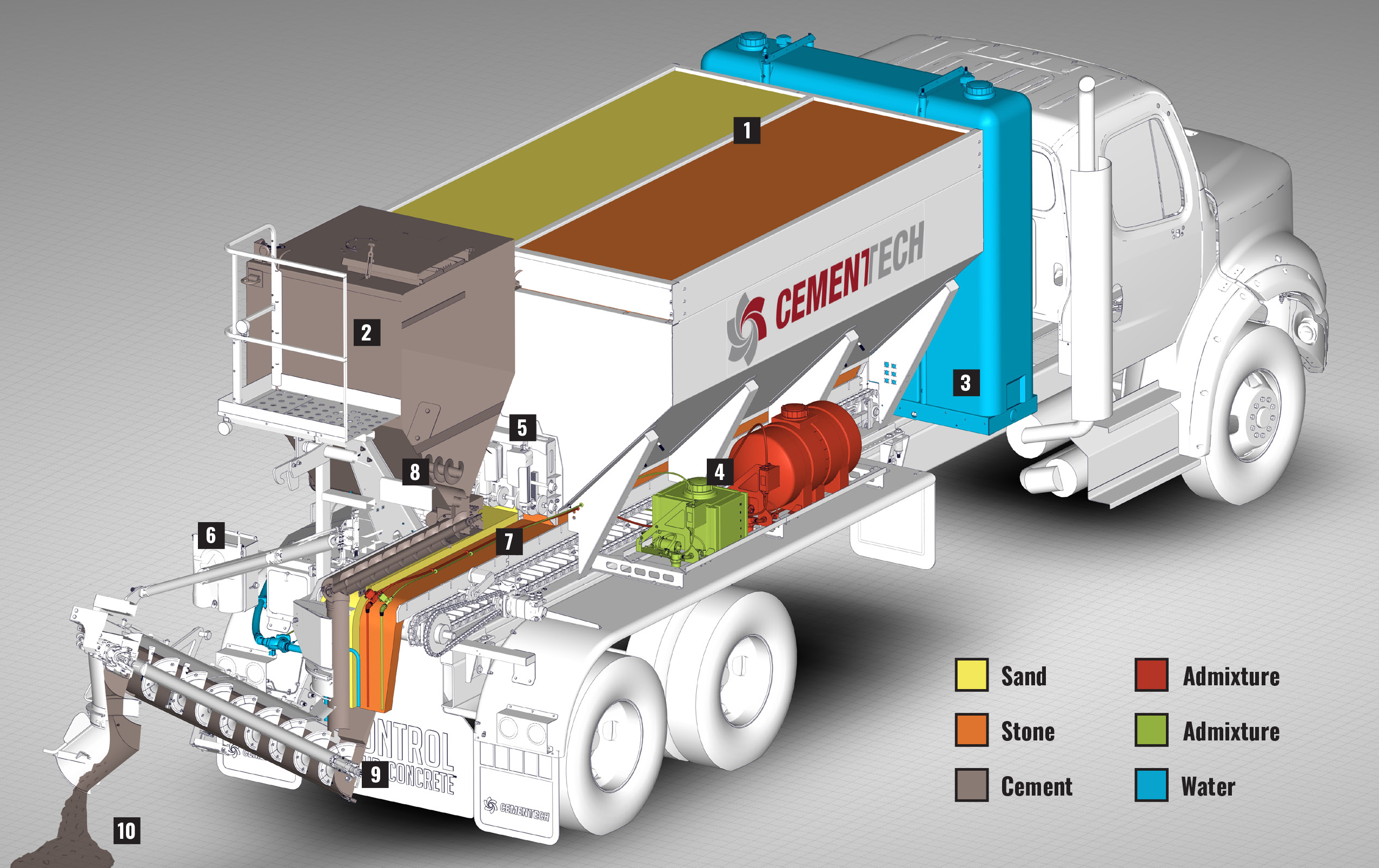 Call For a Quote:
(443) 262-1533
Volumetric concrete brings so many advantages to every job, big or small by being more efficient and reducing waste.
From a wheelbarrow to 12 yards of concrete, we've got you covered!
How can you save by using volumetric concrete?
No matter what size the job is, a volumetric pour saves the operator and the customer money. By mixing and delivering exactly the right amount of fresh concrete, waste is eliminated, and the customer pays only for what they need and use.
Is volumetric only for smaller jobs?
When it comes to concrete projects, many people are quick to dismiss volumetric concrete as something better suited for smaller jobs.
However, volumetric mixer trucks have the potential to handle even the largest of projects, offering flexibility and distinct advantages over traditional ready-mix trucks. Not only do volumetric mixer trucks hold enough material to produce almost twice as much concrete as a ready-mix drum truck, but they also allow for additional raw material to be delivered to the job site, allowing for a continuous pour. With modern machines producing a yard of concrete a minute and 60 yards per hour, volumetric mixer trucks can easily handle any job, large or small.
How much more efficient is volumetric concrete?
Volumetric mixers offer a unique way of mixing concrete on the job site, with one truck delivering precisely the amount of concrete needed and no waste. This means less environmental impact due to the lack of excess concrete returning to the plant and no extra trips to the job site to make up for what's missing.
How important is the quality control?
Mixing concrete on site and producing a flow of concrete in real time can be a challenge. With changing temperatures and inconsistent raw materials, it can be difficult to achieve consistent results. However, this process provides a unique opportunity to observe, test, and adjust the mix on the fly. By making subtle changes in the mixing proportions, it is possible to ensure a final product that meets or exceeds expectations.
How flexible is a volumetric pour?
Volumetric mixing brings flexibility and control to every pour. On site, that means one truck can move around and complete many small jobs. It also means that it can mix and pour multiple different types of concrete with the materials it has on board. There's no need for additional trucks or additional trips back and forth to the plant.
Likewise, with utility projects, or any pour that requires waiting for part of the pour to set before adding more, volumetric is ideal. Some projects require multiple incremental pours over hours, and no other means is as flexible and practical.
Do I have to worry about "hot loads" of concrete with volumetric?
A lot of contracts mention getting a "hot load" of concerete sometimes, which means that the concrete stiffens quickly. This means the concrete is difficult to place and solidate on a job.
Though hot loads can be caused by high concrete and air temperatures, certain cement or admixture properties can also lead to early stiffening. When you have a volumetric mix, we can eliminate the possibily of a "hot load" because we can control the mixture directly on site!
Changing an industry that hasn't in almost a century.
Automated
The electronic control panel of yardage and the materials make for a quick operation!
Accurate
Electronic mix designs for exact mixtures every time!
{{ thankYouPage.title }}
{{ thankYouPage.description }}
{{ thankYouPage.order_title }}
{{ getOrder.orderId }}
{{ field.label }}
{{ field.converted }}
{{ field.label }}
{{ field.convertedPrice }}
{{ field.extraView }}
{{ field.label }}
{{ field.converted }}
{{ field.extraView }}
{{ field.option_unit_info }}
{{ field.option_unit }}
{{ option.label }}
{{ option.converted }}
Total
{{ item.data.converted }}
"{{getWooProductName}}" has been added to your cart